WHAT IS IT?
Corpus offers your company a special collection service, with a totally innovative system that exists in more than 30 countries in Europe.
HOW DOES IT WORK?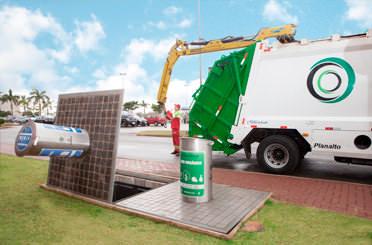 Without taking up space, concrete vats are buried next to plastic containers. Superficially, only lids and two bins with false bottoms remain for selective (paper, plastic and aluminum) and organic (food) waste storage, which are sent to the containers.
When the capacity of 3,000 liters is close to being reached, a sensor is automatically triggered and a Corpus team picks it up. It's simple: an employee opens the lid on the surface with a wrench and secures the buried container to the truck crane. The container is emptied thanks to the universal dumper system, returning to the subsoil. The operation takes an average of four minutes.