WHAT IS IT?
The collection of organic waste without CO2 emission service is carried out by means of electric trucks, which stores up to 16 tons of garbage per shift and has an estimated autonomy of 200 kilometers. With an equivalent of 8 hours of operation without recharging.
HOW DOES IT WORK?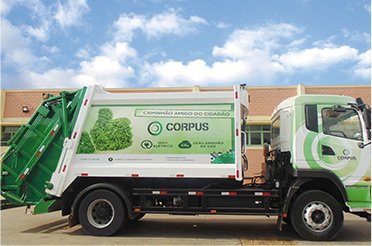 Corpus chosen the T8A model, produced by the Chinese company BYD, which was provided with a hydraulic compactor to store collected waste, thus becoming the first mass 100% produced electric vehicle, used for such purpose in the world. The collection truck is powered by a lithium iron phosphate battery – recyclable and with a useful life of up to 40 years – does not emit gases or exhaust fumes to the atmosphere, has simplified maintenance and is much quieter than traditional vehicles used in urban cleaning. That is, with less moving parts, the expected maintenance cost is at least one-third of the diesel vehicle.
"In the long term, our expectation is to rely only on electric trucks in our fleet, so we think of this strategic partnership," says João Paschoalini, Corpus's operational director.